Exhibitors and sponsors at Auto Show 2022.
Book a booth and showcase your company's products to over 20.000 people at the largest car fair in Denmark. You can also book banners, big screen advertisements and much more.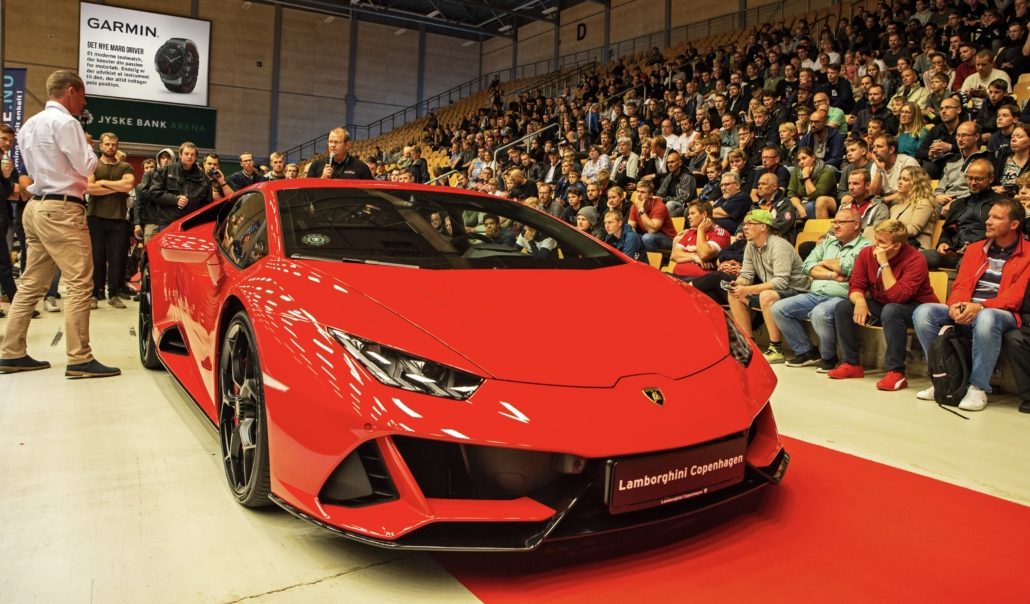 Auto Show is the largest car fair for all Danes with an interest in
cars. On 20-21. August 2022, for the fourth time, you can experience the newest, most beautiful, wildest and most unique cars at Denmark's largest car show. Here the audience can see everything from everyday cars, classic cars and unique sports cars to completely insane super cars and racing cars, along with all the latest equipment for cars.
However, it is not only indoor that the audience can experience amazing cars. Every year a huge outdoor arena with grand stands and concrete barriers is built, with professional racing drivers doing action-packed driving shows all weekend. The driving shows are a huge experience for the whole family.
Showcase and sell your products to over 20.000 car-enthusiastic Danes. Anything is possible at Auto Show, and your stand or branding can be built as you wish. The fair is under roof, so don't worry about the weather – you can instead concentrate on building the perfect stand for your business.
We look forward to making the country's largest car fair with you!
This is what the exhibitors says about Auto Show: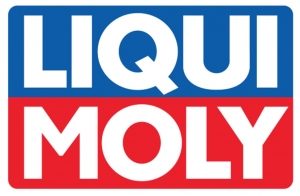 "Liqui Moly sought an opportunity to increase our 'brand awareness' in Denmark. We bet big on Auto Show, and were met by over 20.000 existing and potential customers in a single weekend. Subsequently, we have been able to register a dramatically increasing interest in our brand and our products."
– Mikkel Wickberg, Liqui Moly
"As an exhibitor (and guest) we had a fantastic experience at this year's Auto Show. Our expectations were to achieve a broad promotion of Lamborghini's new model – the Huracán EVO, which was fully met due to the impressive visitor numbers, which consisted of dedicated car enthusiasts."
– Lizeth Ladehoff, Lamborghini Copenhagen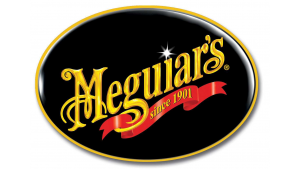 "Auto Show is the car show that the industry has been asking for for years. The organizer has set some super well organized frames that allow all parts of the auto industry to be combined and combine branding with direct sales to the end user. We attended for the first time last year, breaking all our sales records compared to everything we have participated in in the past. The only thing we are sorry about is that we have not attended Auto Show before."
– Anders Sommer, Meguiar's Danmark

"Sportscar Event again this year has had the pleasure of attending the Auto Show. It has been a great opportunity for us to spread awareness of our charitable work. Our booth was well attended and well placed and we have been greeted by great cooperation from the organizer, so everything just worked 100%! Delivery and pickup of cars, stand etc. have worked impeccably. We set a new record for revenue for our event at Odense Airport two weeks later, so it has clearly played a big role in our participation in the Auto Show. We are looking forward to 2022."
– Jacob Skree, Sportscar Event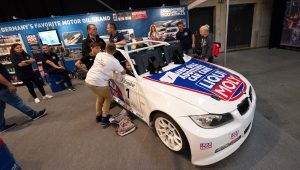 Booths for your showcase
If you want to sell or build a beautiful showcase of your company's products or services, then a booth at Auto Show Denmark is exactly what you are looking for. Here are some booth sizes and prices.
Booth indoor – 9 sqm: 17.900 kr.
Booth indoor – 36 sqm: 25.900 kr.
Booth indoor – 81 sqm: 34.900 kr.
Booth indoor – 120 sqm: 48.900 kr.
Booth outdoor – 30 sqm: 19.900 kr.
Booth outdoor – 50 sqm: 29.900 kr.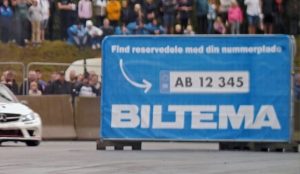 Branding your business on banners, beach flags, etc.
You have over 20.000 car enthusiasts in your company's target audience gathered at Auto Show, so why not bombard them with branding? We offer lots of options for banner hanging etc.
Hanging banners and setting up beach flags in the live arena: Pr. pcs. from 7.900 kr.
Hanging banners on interior walls of exhibition halls: Pr. pcs. from 9.900 kr.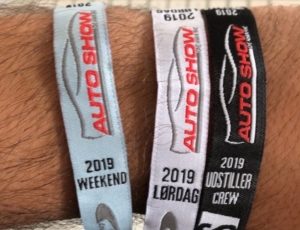 Advertising on wristbands and employees
Our more than 50 employees are very visible before, during and after the fair. So are the 25.000 access wristbands. They are on all visitors, exhibitors, employees and others.
Logo on exhibitor wristbands (1.500 pieces): From 8.900 kr.
Logo on spectator wristbands (25.000 pieces): From 24.900 kr.
Logo on employee clothes (50 persons): From 12.900 kr.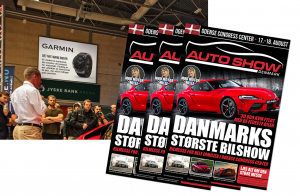 Advertising in program and on big screens
The official program for Auto Show is published in 60.000 copies and distributed to selected homes with at least one car registered at the address. In addition, all guests for the show will have the program in hand at the entrance. You can buy ads or publicity in the popular programs.
Four large screens in the exhibition center allow for plenty of exciting branding for over 20.000 guests.
Logo / graphics on big screens: From 8.900 kr.
Advertisement in program: 5.900 kr. (half page) 9.900 kr. (full page)
Review article in program: From 9.900 kr.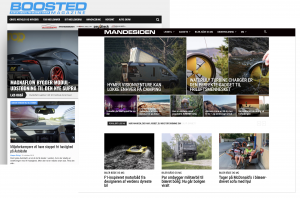 Possibility of lots of publicity
Auto Show 2022 is organized in collaboration with Denmark's largest car site Boosted.dk and the online magazine Mandesiden.dk. When entering into an agreement for Auto Show 2022, discounts can be obtained if at the same time booking an exposure agreement with Boosted.dk or Mandesiden.dk.
Boosted.dk has 550.000 users and more than 4 million page views a month.
Mandesiden.dk has 200.000 users and 2 million page views a month.
In total, the two media outlets have 165.000 followers on social media.
Contact us for further information and offers.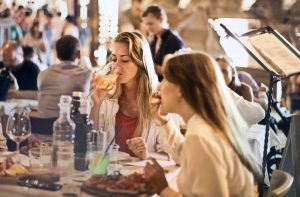 Events, hotel, dining and VIP booking
Auto Show has a lot of extraordinary opportunities for you and your company, which will provide customers, partners, employees and others a truly unique and unforgettable experience.
It is also possible to book private lounges with private entrance and full catering for both large and small companies. Enhance the VIP experience for your customers or partners with their own tickets with logo, private entrance, luxury accommodation and more. But also basic catering tickets for the fair's many eateries are an option.
Price by appointment.
All of the above prices are ex. VAT.